Latest Ontario Polls 2021 and Google Search Data: Liberals at 38.1%, Tories at 31.9%, NDP at 20.4%
Track the 2022 Ontario Polls here
Latest Ontario Polls 2021 show the Liberals ahead by 6.2%. The Liberals are at 38.1%, Tories at 31.9% and NDP at 20.4%
Sep, 18, 2021, 5 Pollsters
Canada Election: How this Ontario region's "vote switchers" could have influence on the results
Ontario Polls 2021: Polling Data, Data reported on Sep 18th
Canada 2021 province polls, Range
NDP -18-22% (4%)
Liberals – 35-39% (4%)
Conservatives – 26-35% (9%)
Canada Federal Election Polls and News: Latest Projection
Ontario Polls 2021: Seat Forecast, Sep 18th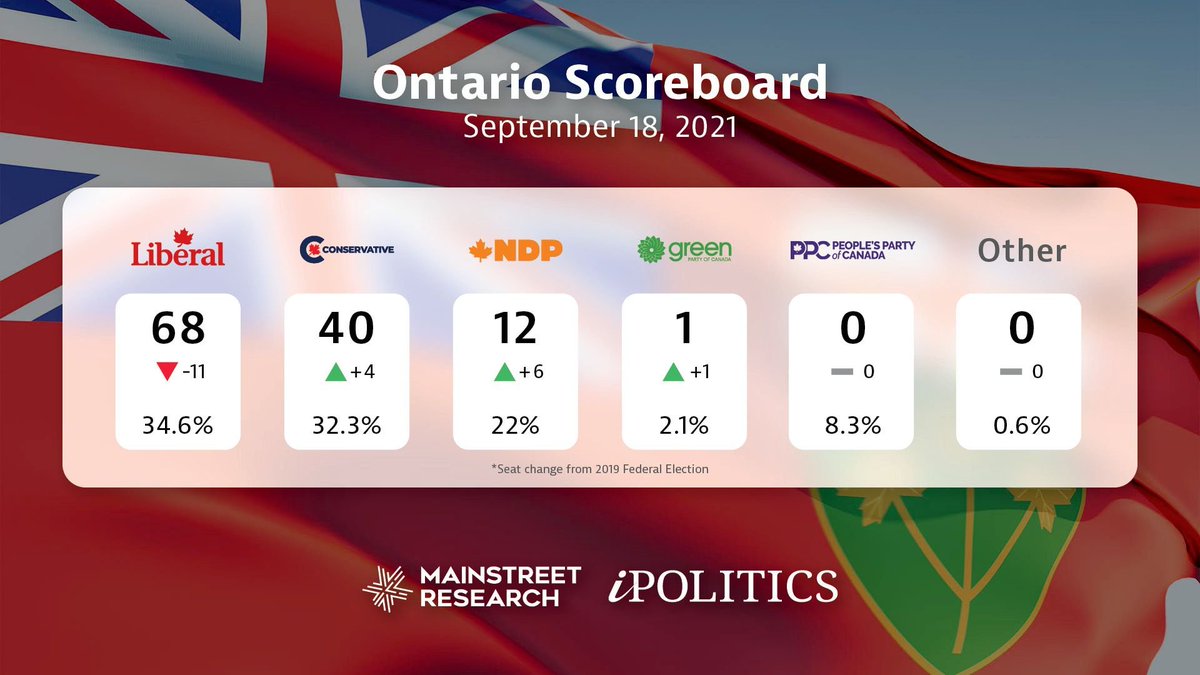 Ontario Ridings to Watch: 2021 Canadian Election
Inside the election showdown in the Toronto suburbs that could make Erin O'Toole prime minister
Are the Conservatives worried about the People's Party of Canada — or should they be?
Liberals continue to lead in tight race for GTA, poll finds
Ontario Polls 2021: Google Search Data
On Google search however, the patterns are different. The biggest gainer appears to be the PPC with the NDP losing significantly as well
Google Search Data, shift over 2019 election
| | | | |
| --- | --- | --- | --- |
| Province | LPC | CPC | NDP |
| Ontario | -2% | +2% | -20% |
Ontario Polls 2021: Popular Tweets
Originally tweeted by Ben (@ponekeben) on September 19, 2021.

Where it gets interesting is breaking down support by region. In Atlantic CA & vote rich Ontario, LIB sit 40%~, Quebec 30%~ & dip all the way down to the teens in the conservative prairies.

CON on the other hand have much more concentrated support in Alberta + Praries of 40%+ with 30%~ in Ontario/BC.

What this effectively means is with FPP, CON can beat LIB in the popular vote (per 2019) and still win far less seats overall. CON support has improved from 2019 but without Ontario, it's extremely hard for them to plot a path to victory.

4) CON vote in Ontario. If polls are off and CON are competitive in greater Toronto then almost all my reckons go out the window. Given poll consistency and disastrous CON premiership I'm confident we're not going to see much change here.
Originally tweeted by Joan (@joandotca) on September 19, 2021.

Not sure, but this movemt seems to be in high gear, so maybe they'll mask up for this occasion. I suspect the polls have underestimated the impact the PPC will have on this election. Just observing, not in agreemt w/ them. But I'm in SW Ont and am seeing quite a lot of PPC signs.
Originally tweeted by Frank Graves (@VoiceOfFranky) on September 19, 2021.

The LPC lead in Ontario is so large that I am not even going to report it (will confirm tomorrow ). I am not sure there are more than a handful of safe CPC seats in Ontario (abridged)
Originally tweeted by 🇨🇦Coach Guzzo🇮🇹 (@CoachGuzzo) on September 18, 2021.

Where's the Premier? No leadership. No direction. No accountability. No effort. Nothing. That is why @fordnation will lose the next provincial election by a landslide. @StevenDelDuca do everything opposite of this guy & Ontario will thrive economically & health wise.
Originally tweeted by Richard Southern (@richard680news) on September 17, 2021.

NEW – Deputy Premier Christine Elliott is asked by our @QPCamera where Premier Ford is. Ford has held just one news conference in 7 weeks.

"Premier Ford has been around. Premier Ford is working every day to try and help limit the effects of COVID-19" "Premier Ford is very busy"
Could PPC be a wildcard in splitting conservative vote in Elgin-Middlesex-London Riding?
Election-day polling stations cut by more than half in 11 Greater Toronto Area ridings
First Nations vote a potential 'kingmaker' in federal election outcomes for northern Ontario
Northern Ontario voters looking for action on climate change not just 'promises and election speeches'
Sault candidates clash over Algoma Steel
Trudeau defends 400-person indoor election rally in Ontario